Congratulations! You're pregnant - let me tell you a secret...
Birth isn't just about making babies, it's about making mums too. As a pregnant woman you are being invited to re-invent yourself because when a baby is born so is a mother.
Most pregnant women don't realised it, but the birth of a mother can be even more intense than childbirth.
Be the mum you want to be
Let me introduce myself. I'm Julia and I'm passionate about preventing new mums from feeling exhausted and overwhelmed.
I created Nourishing Newborn Mothers because I after giving birth to my first baby I was shocked. Sadly, I have since learned this is a really common reaction.
I had low milk supply, indigestion and a colicy baby and experienced first hand the massive difference that delicious, nourishing comfort food can make.
Over the past five years I have been cooking for many new mums and get asked for the recipes without fail!
After my second baby was born many friends and family offered to bring me food, but I have to say the usual frozen lasagne was just not hitting the spot. So I dug out all my recipes from scraps of paper and old emails. I made an effort to start weighing and measuring when I cooked and here they are for you to enjoy too.
Nourishing Newborn Mothers eBook
$30.00 AUD (+10% GST for Australian residents)
Ayurvedic recipes to heal your mind, body and soul after childbirth.
Nourishing Newborn Mothers is for you if…
You are pregnant and you want to find peace and joy in motherhood.
Mothers who rave about my recipe book tend to love yoga, enjoy healthy food and care about our planet. You don't need to know anything about Ayurveda, you don't even need to know how to pronounce Ayurveda, but you will notice that these recipes are more than just fuel for your body, they are recipes to heal your mind, body and soul after childbirth.
Newborn Mothers know that being happy and healthy means you can be the mum you want to be, and your baby will thank you for it.
Are you a Newborn Mother?
A recently born mother whose strength is asking for support. She acknowledges that the birth of a mother is even more intense than childbirth, and that she is as sensitive and vulnerable as her baby. Her heart is wide open and her needs are high. As she nourishes herself, she nourishes her children.
This book changes lives
This is more than a recipe book! I have to be honest with you, the delicious meals, snacks, drinks and treats are a ruse. What you'll really get is access to are:
nourishing postpartum traditions to bring you peace and joy
insight into your crazy love hormones and why baby brain is wonderful thing
useful tips to boost your milk supply and calm the crying (you and your baby!)
The book is a week-by-week self care plan for the first 40 days after your baby is born.
You'll be surprised and delighted by...
How DELICIOUS these simple recipes are. Who knew that zucchini and almonds would create a soup far more amazing than the sum of it's ingredients? Garlic and ghee is match made in heaven! Rice and milk and cardomon? There's a reason they call rice pudding ambrosia!
The balance of spices and the deep mind-body satisfaction is what makes Ayurvedic food so special. It really hits the spot!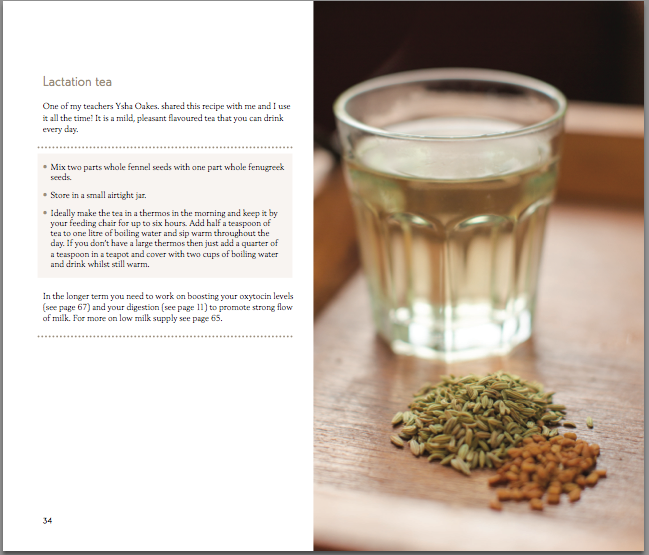 Why me? Let's see..
After years of trying out lots of different fad diets (raw, dairy free, wheat free, paleo...) I found that the food that was working for other people didn't work for me. I didn't feel satisfied or energetic. Those diets didn't give me a feeling of vitality I was looking for.
I came across Ayurveda when I spent a year volunteering in India after University. I was blown away when old people on the street would just look at my tongue or eyes and then pick a wild herb... or send me to a local sugar cane farm.... or brew some bitter tea... and it would be exactly what I needed at that moment.
Ayurveda, I learned, acknowledges that every body is different, and there is no one diet that will work for everyone. Ayurveda allows you to tune in to your body and find out what food works for you.
Later on, back in Australia, after two years of being sick and unable to get a diagnosis an Indian doctor felt my pulse and instantly told me I had a parasite. From touching my wrist. True story.

I never looked back! I've been studying Ayurveda for nearly a decade now, and specialising in the first forty days after childbirth for about half of that time.
DOWNLOAD THE FIRST CHAPTER FREE
Enter your email to find out how Nourishing Newborn Mothers can
help you be the mum you want to be.